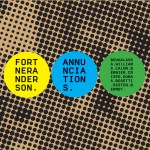 Annunciations I II III – Fortner Anderson (2012)
Label: les blocs errants

A collaboration between the poet and nine renowned composers and musicians: Nicholas Bernier, Christian Kesten, John Berndt, Alessandro Bosetti, Christian Calon, Martine H. Crispo, Ned Bouhalassa, Chantal Dumas and Andy Williams.
The project began with a reading and poetic re-interpretation of three texts, the Columbia Crew Survival Investigation Report, published by the National Aeronautics and Space Administration, the Fourth Assessment Report of the Intergovernmental Panel on Climate Change published by the United Nations Intergovernmental Panel on Climate Change, and the Joint Task Force Guantanamo Standard Operating Procedures for Camp Delta, the US military installation in Guantanamo, Cuba. Readings of the poems were recorded, and given to the nine composers who subsequently composed new works using the recordings.
Annuciations CD II
Track 02:  Martine H. Crispo – Talking T. Fortner